Contact lenses can give you a lot of freedom. And while contact lenses provide many benefits, they do come with some risks as well, including dry eye syndrome. While it's temporary, it can be extremely frustrating—especially since contact lenses can irritate this condition. Can you even wear contacts with dry eyes, or should you avoid them?
Your optometrist can recommend whether or not you should be wearing your contact lenses if you have dry eye, and they may recommend daily disposable lenses or specialty lenses like scleral contacts, which can improve moisture retention in your eyes and provide clear sight.
Rather than sit on the irritated, sensitive part of the eye, scleral lenses arch over the cornea and rest on the sclera of your eyes, creating a moisture reservoir and helping to restore hydration to your eyes.
What Causes Dry Eye?
Dry eye occurs when your eyes don't produce enough tears or the tears in your eyes evaporate too quickly. This is often caused by several factors, such as:
Aging
Certain medications, including some antihistamines and antidepressants
Dusty or dry environments
Hormonal changes
Blinking less often (like when you're using a screen for too long)
Medical conditions like blepharitis, allergic reactions, or thyroid problems
Extended contact lens use
Since there are many potential causes, it is important to visit your optometrist so you can receive a proper diagnosis—and a recommended treatment.
How Can You Tell if You Have Dry Eye Syndrome?
If you've never experienced dry eye, it often feels like:
A stinging or burning sensation in your eyes
Redness and irritation
A gritty feeling, as if there's something in your eye
Blurred vision or eye fatigue
Sensitivity to light
The symptoms of dry eye can be irritating and uncomfortable, and it is often a chronic condition.
Do Contact Lenses Cause Dry Eyes?
If you wear contact lenses, you might notice that sometimes your eyes are a little more sensitive or uncomfortable. Does this mean contact lenses can cause dry eyes?
Your contact lenses can contribute to dry eye development. Some types of contacts absorb moisture from the eye's surface, which can begin to cause dry eye symptoms over the course of a day.
Improper hygiene or use of your contact lenses can also cause dry eye symptoms. Do not wear your contact lenses for longer than recommended, and never sleep in lenses that aren't intended for this use.
But not all contact lens wearers experience this, and different types of contacts can have different effects on the eye.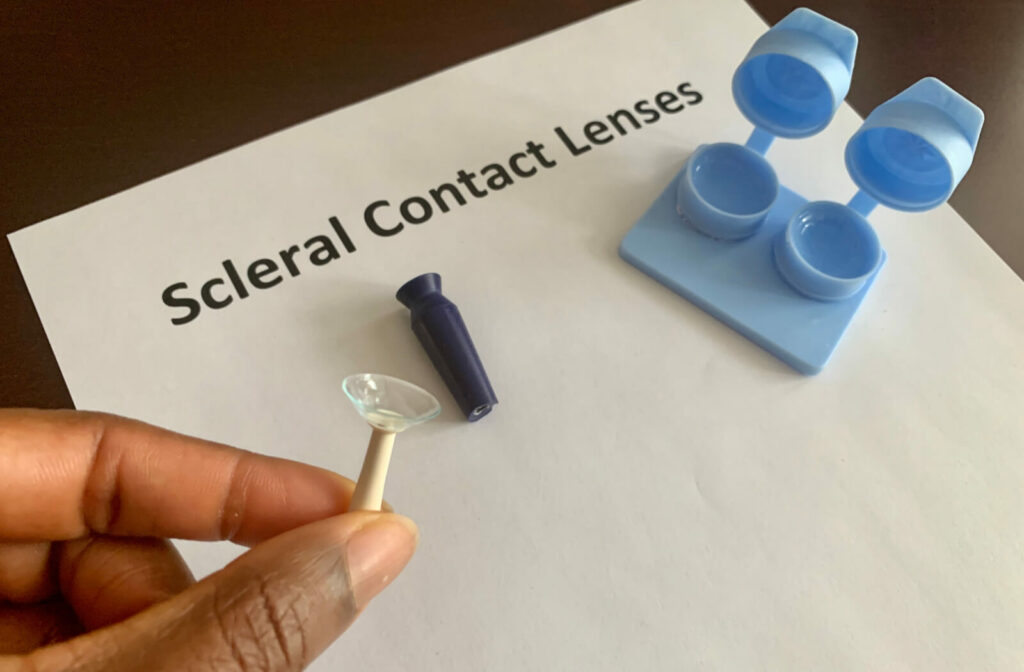 Can You Still Wear Contacts If You Have Dry Eye?
If you have dry eyes but rely on your contact lenses for your vision, there's a piece of good news: there are contact lens options available for you.
Scleral Lenses
Your eye doctor might recommend scleral lenses to help combat your irritating dry eye symptoms. While a soft contact lens rests on your cornea, scleral lenses rest on the whites of your eyes and arch over the cornea without touching it. This creates a little reservoir for your tears to keep your cornea protected and hydrated.
Meanwhile, they still give you clear vision and prevent dust or irritants in the air from reaching your eyes. And since these lenses are custom-fit to match your specific eye, you can have a comfortable lens that helps reduce the chances of developing dry eye.
Daily Disposable Contact Lenses
Daily disposable contact lenses are also a viable option for those with dry eyes, as they minimize the risk of protein and bacteria build-up on the lens. Build-up on the lens can lead to irritation and contribute to your dry eye symptoms.
By wearing a fresh pair of daily disposable contact lenses, you avoid the oils, makeup, or other substances collecting on the lenses, helping to minimize dry eye symptoms.
Does Insurance Cover Contact Lenses?
Many insurance plans recognize that dry eye is a medical condition—meaning that specialty contacts like scleral lenses may be deemed medically necessary. This means if you need to buy specialty lenses for medical purposes, they may be covered by your insurance.
Depending on your insurance company, they may cover some or all of the cost of your corrective eyewear, including soft contact lenses or glasses. To get a full understanding of what your insurance covers, you can speak with your insurance company.
Where to Get Help for Dry Eyes
The Eye Avenue is committed to helping you determine the cause of your dry eye symptoms. We take a holistic approach to your health, and we want to help you see comfortably and clearly.
We can perform a comprehensive eye exam and get you a diagnosis for your dry eye, and our team can help with a contact lens fitting so you can find relief from your dry eye symptoms. Book an appointment with us today.