It can often be tricky to know when you are due for an eye exam, but a general rule of thumb for how often you should go to the eye doctor is every 1–2 years for adults aged 18–64.
Children and those with other medical conditions, like diabetes, often need annual eye exams. If you are experiencing an eye emergency, disregard the last time you've been in for an eye exam and see your eye doctor promptly!
Regular Preventive Eye Care
Visiting the doctor and the dentist are all part of maintaining your health. But what about going to the eye doctor? That's also crucial. Eye checkups at all ages and stages of life can help you maintain clear sight and healthy eyes.
About 11 million Americans over age 12 require vision correction—but that is only one of several reasons to have your eyes inspected. Regular eye exams are essential for detecting eye conditions early and maintaining your vision with preventive treatment.
An eye exam can reveal a lot about your overall health by giving eye doctors a clear look at your blood vessels and the other parts of your eyes. An exam can identify significant conditions like glaucoma, macular degeneration, diabetes, high blood pressure, and high cholesterol. With a comprehensive eye exam, you may be able to discover these issues earlier and prevent major complications.
What Is Involved in an Eye Exam?
Eye exams include tests to measure your visual clarity and look for eye diseases.
A full eye exam may involve a chat about your personal and family history, as well as any prescription medications you're taking and whether you currently wear corrective eyewear, such as glasses or contacts. This talk can help us determine your risk of certain eye conditions and tailor your exam to your individual needs.
Once your optometrist has a thorough grasp of your medical history and needs, they may:
Examine your visual acuity to see if you require corrective lenses
Examine your pupillary reaction to light, your eye movement, and your intraocular pressure
Examine the health of your eyelids, lenses, corneas, and irises, as well as the retina and optic nerve, for signs and symptoms of more significant problems
Evaluate your depth perception, peripheral vision, and color vision
After completing the necessary tests, we can determine your prescription and let you know when you should return for another visit. We may also provide treatment recommendations for other issues. If you need new glasses or contact lenses, you will usually pick them out after your eye exam.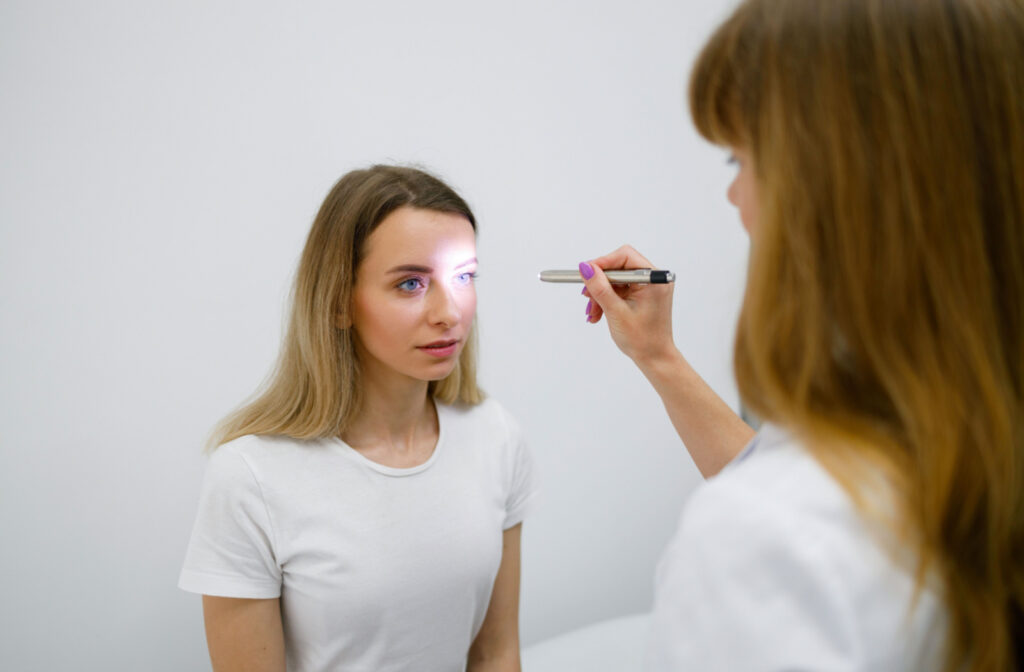 Do Eye Exams Really Matter?
Yes! Eye exams are critical for monitoring your eye health to detect and treat new conditions early.
Several criteria, including age, general health, and whether you're at low or high risk for any potential eye diseases or problems, should be considered when deciding how frequently you require an eye checkup, even if you have 20/20 vision.
Many people believe their vision is great, but often enough, they'll find their first set of glasses or contacts can make everything—from small text to street signs—more visible. It's also possible to be at risk of developing sight-threatening conditions even with 20/20 vision.
You might be considered at risk if any of the following applies to you:
Your family has a history of eye illness
You work in a dangerous or visually demanding profession
You take medication that causes ocular side effects
You've previously sustained an eye injury
You wear contacts or only have vision in one eye
You have another medical condition, such as diabetes
You're 65 or older
If you've undergone refractive surgery, such as LASIK, you should still visit your optometrist every 1–2 years so they can check on the health of your eyes.
Are there Alternatives to Eye Exams?
You may have noticed advertisements for apps that claim to be able to replace going to the eye doctor. Online vision tests try to replace the refraction component of an in-person eye exam to generate a prescription for contacts or glasses, but they don't always provide accurate results, and they don't include all the other tests that are completed during a comprehensive eye exam.
It's similar to getting a blood pressure measurement at a kiosk and receiving a prescription—the reading doesn't typically provide enough information to identify a patient's required treatment.
Are Online Vision Tests Accurate?
The measurement of refraction done by online vision assessments is only one of several tests done during an eye exam, and it does not typically provide enough information about a patient's treatment options, including the prescription for glasses or contact lenses.
It is also possible that online vision tests give out misleading or incomplete information, which may give people a false sense of security. This is why it is always recommended to go to a professional and book an eye exam with your eye doctor.
Our Approach to Eye Care
Great experiences are the cornerstone of The Eye Avenue. We feel that having an understanding of our patient's needs is the key to providing eye care, which is why we work hard to get to know you. We focus on developing solid, long-term connections for personalized care that considers each person as a whole.
Our optometrists provide thorough eye exams, and our optical team works with you one-on-one to choose the right eyewear for your needs.
Book an appointment with us today to see us for your next comprehensive eye exam. We can't wait to get to know you more.