Have you ever wondered what goes on during an eye exam? Regular eye exams are essential for maintaining eye health and detecting signs of potential issues before they become severe.
It is important to understand what to expect so that you can be prepared and make the most of your appointment.
During an eye exam, you will undergo various tests to assess the current state of your vision and detect any indications of potential issues before they become severe. This comprehensive exam will also evaluate your visual acuity, underlying conditions, and need for corrective lenses (glasses or contact lenses.)
Let's take a closer look at what happens during a comprehensive eye exam.
What Is Involved in an Eye Exam?
Understanding Your History
An eye exam is invaluable for assessing visual acuity and detecting sight-threatening eye diseases. It's a must for maintaining long-term vision health.
During your appointment, be prepared to discuss all relevant information about yourself and your family, any medication you're taking, or if you're using glasses or contacts. It will help your eye doctor to provide a tailored examination based on whether they deem you at a high-risk or low-risk for potential vision problems.
Performing Different Tests
After your optometrist has gained an understanding of your vision history and needs, they will conduct a series of tests.
These include testing visual acuity, pupillary response to light, eye movement, eye pressure, eyelids, lenses, corneas, irises, retina, and optic nerve for any signs or symptoms of more extreme conditions.
Additionally, depth perception, peripheral vision, and color vision may be analyzed here to ensure that all bases have been covered.
Pupillary dilation is a key component of a comprehensive eye exam, allowing eye doctors to evaluate a patient's ocular health thoroughly. By dilating the pupil, doctors have a better view of the eye and can detect abnormalities that would otherwise go unnoticed. It is essential to detecting and treating potentially serious conditions such as retinal detachment, glaucoma and macular degeneration early.
Determining Your Prescription and Next Steps
Once all examinations are complete, your optometrist will issue a prescription and advise when you should return for an additional visit.
Furthermore, they'll provide necessary treatment plans if any other conditions require attention.
If new eyeglasses or contact lenses are what you're aiming for, then their certified optician can assist in finding the perfect pair of frames to suit your taste and lifestyle!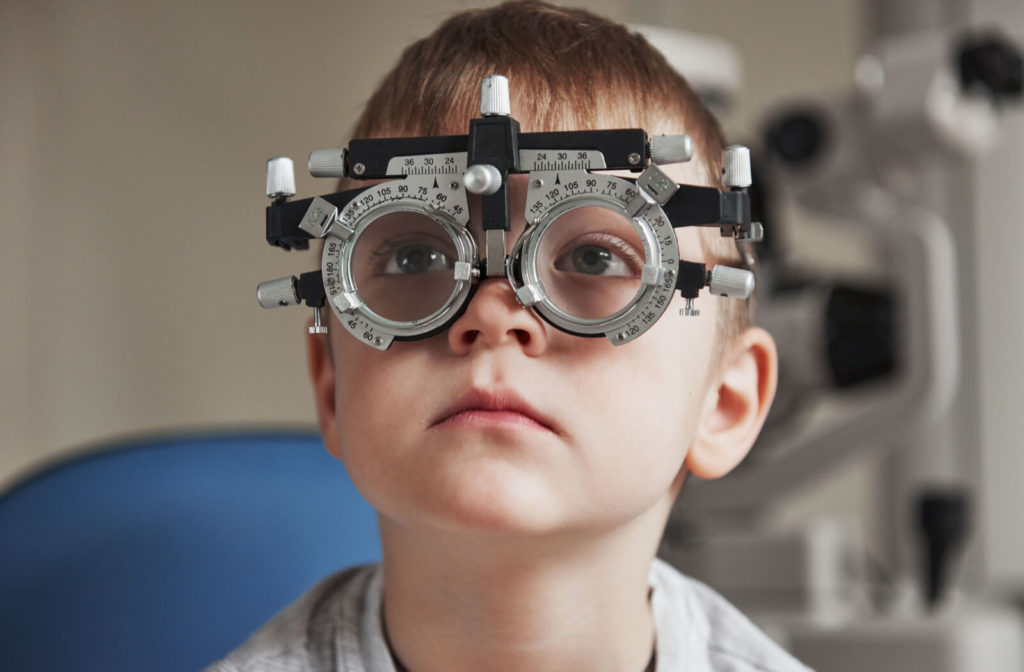 Different Types of Eye Exams
Whether you're an adult, senior, child, or someone with diabetes, it's essential that you get regular eye exams to ensure your vision is the best it can be.
Adult and Senior Eye Exams
These exams are for adults aged 18 and over and seniors 65 and over. They typically involve tests like visual field testing to detect glaucoma and pupil dilation to check for cataracts.
Eye doctors will also look for any signs of age-related macular degeneration or retinal damage. It is essential to have regular eye exams for adults and seniors, as your optometrist may detect other health issues before a primary care physician identifies them.
Child Eye Exams
At The Eye Avenue, we began seeing children for eye exams at age 5. During this examination, the optometrist will evaluate for nearsightedness, farsightedness, or astigmatism, check their visual acuity, and assess general ocular health.
Subsequent evaluations should occur at least once before age 3-5 and then annually after they start school.
Diabetic Eye Exams
Diabetes is a serious medical condition that can have far-reaching consequences, including the health of your eyes. That's why it's so important to get an eye exam every year from a licensed optometrist; they are specially trained and able to detect any issues before you may even notice them yourself.
Regular checkups with your physician cannot detect diabetic retinopathy. A thorough dilated examination from your optometrist can spot problems in time for treatment to prevent long-term damage!
Contact Lens Exams & Fittings
Contact lens exams are necessary if you want to wear contact lenses instead of glasses.
Contact lenses require more measurements than glasses do to fit properly. A proper fitting can help avoid any discomfort or medical complications like dryness or infection due to poor fitting lenses that don't cover all areas of the cornea properly.
Your eye doctor will perform various tests, such as assessing your tear production levels and measuring any curvature irregularities in your corneas, before suggesting which type(s) of lenses might work best for your eyes.
Preserving Your Eye Health with The Eye Avenue
A comprehensive eye exam by experienced professionals is essential for ensuring no underlying conditions or signs of potential issues.
The Eye Avenue is dedicated to providing convenient and patient-focused services, personalized care, and innovative technology to help you maximize your appointment.
With extensive knowledge in preventive care and a service-oriented mindset, our team of experts will provide you with knowledgeable guidance on taking care of your eyes best.
Book your next appointment with The Eye Avenue today and let one of our supportive specialists guide you through the process of preserving your eye health with professionalism and empathy.